Mobile App
Our Security Camera systems allow you to monitor your business from any internet connected device in real time.
The app provides hassle-free remote access from your iPhone / iPad or Android device to your DVRs. View multiple live camera streams or recorded video instantly. Video recordings on your DVR are organized by date, making it easy to view and manage your surveillance videos at a glance.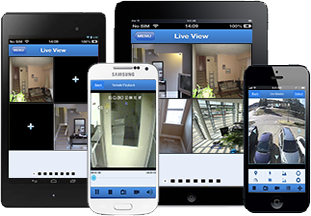 The intuitive user interface allows you to use various features while viewing your cameras. Take snapshots of live or recorded video to share with friends and colleagues. You can also record and save sections of video from a live stream or playback directly to your mobile device. The app is now available from the iTunes App Store, Google Play Store, and Amazon App Store.